Curried Cauliflower with Couscous and Grains
Have you ever created a recipe at home, completely out of necessity? Because you ate it while on vacation far, far away, or a store has stopped carrying a product that you love? And you simply can't live without its utter fabulousness in your life on a regular basis?!
by Brenda
by Brenda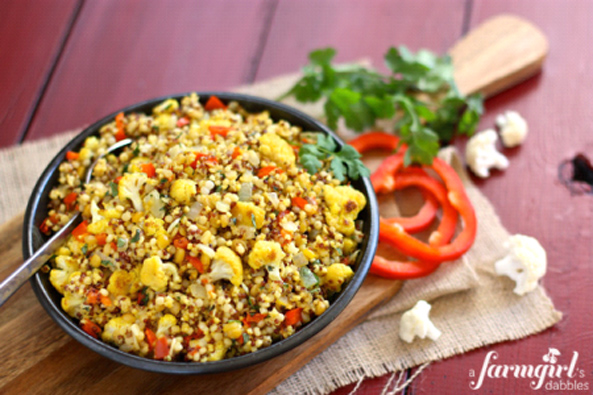 Have you ever created a recipe at home, completely out of necessity? Because you ate it while on vacation far, far away, or a store has stopped carrying a product that you love? And you simply can't live without its utter fabulousness in your life on a regular basis?!
Well that's how this Curried Cauliflower with Couscous and Grains came to be. It's a new recipe I created as part of a new partnership with Land O'Lakes! I'm teaming up with Ree Drummond, also known as the Pioneer Woman, and Becky Wahlund, Director of the Land O'Lakes Test Kitchen, to bring you Kitchen Conversations. Kitchen Conversations is about bringing together bloggers with unique backgrounds and cooking styles and inspiring home cooks to feel more confident and have more fun in the kitchen.
Our first topic of conversation was food trends, which brings me back to couscous and grains!
Last summer my family became hooked on an Israeli couscous and grains blend that I picked up at the store. Each time I prepared it, I gave it a little different twist, depending on what else was being served for a particular meal. I always began by adding a simple mixture of onions, sweet peppers and garlic, sautéed until softened and fragrant. And then I would start playing around...maybe I'd add curry and golden raisins to complement a Middle Eastern meal...or diced fresh tomatoes, cumin and a touch of chipotle for taco night. Whatever was fresh and flavorful was fair game. And when our herb garden was bountiful last summer, I'd enlist our young girls to pick a handful of whatever looked good to them, to incorporate into the dish. Fresh herbs add such a flavor boost that you just can't get anywhere else.
Coming up with my own couscous and grains blend became a necessity, though, when after several trips to the store, that particular product was always sold out. After not finding it for several weeks, I was getting cranky. And I was craving that dish more than ever. It was time to get serious and push my own resourcefulness.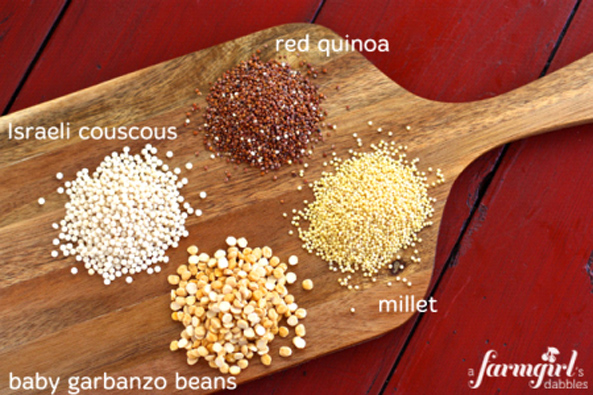 So I gathered ingredients individually and came up with my own blend. I used:
Couscous: A pasta shaped like little balls. Our kids think it's the best pasta ever, as it has such a fun mouth feel, like chewy little bubbles. I also like that it retains its shape and texture when reheated.
Red quinoa: An ancient grain first cultivated by Incan tribes in the Andes Mountains of South America. Both red and regular (creamy-colored) quinoa are high in protein, nutritional value and fiber. And they have a light, fluffy texture and a slightly nutty flavor. But I prefer the red quinoa, as it has a bit more flavor and holds its shape better...and it's so pretty! Its texture reminds me of a more tender wild rice, which I love.
Millet: An ancient grain that is a staple ingredient in the Far East. It is small, round and ivory in color with a mildly sweet and delicately nutty flavor. Millet is nutritious, easily digestible, and an interesting alternative to the more common grains.
Baby garbanzo beans: Also referred to as chana dal beans. The cooked bean is about the same size and shape of a corn kernel. It is deep yellow in color, has a slightly sweet flavor similar to corn and a nut-like texture.
With my own blend now readily available from our pantry, I was back in the kitchen!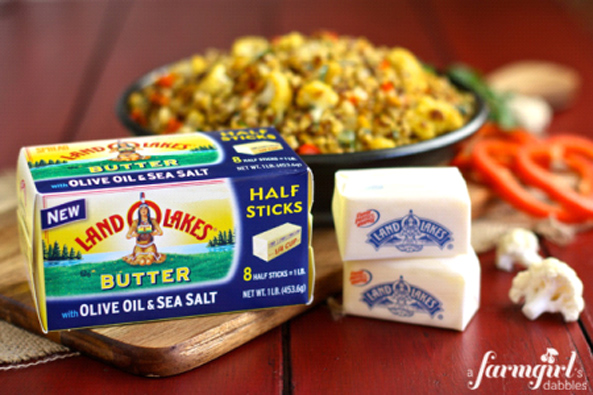 I've always used a mixture of butter and olive oil when sautéeing. I like olive oil for its higher smoke point and butter for the beautiful rich flavor only butter can impart, plus the pretty golden crust it creates. These two ingredients, plus the perfect touch of sea salt, were just meant to be together. So using the new Land O Lakes® Butter with Olive Oil & Sea Salt has become a natural choice for me whenever I sauté. My daughters also like to stir it into their pasta, and I like to melt it and drizzle it over popcorn. Yum!
This recipe for Curried Cauliflower with Couscous and Grains features two separate sautés, using the perfect portion of one convenient half stick of Land O Lakes® Butter. First, onion, sweet red pepper and garlic are cooked in Butter with Olive Oil & Sea Salt, until softened and fragrant. Once that mixture is removed from the pan, cauliflower florets are added, along with a bit more butter, plus curry and cumin. Can you smell the deliciousness?!
I am only a recent fan of cauliflower, and encourage cauliflower naysayers to try both sautéeing and roasting this vegetable before completely writing it out of their lives. These two cooking methods magically transform cauliflower, just like they do many vegetables, and have made cauliflower the cool new dish in our home. My family absolutely devours it, and I've started buying two heads for each meal, as one is never quite enough for the four of us.
This particular dish, where cauliflower and other veggies are sautéed and then married to a mixture of couscous and grains, has quickly become a family favorite. The house smells fantastic as it's being prepared, and I can directly quote our oldest daughter from the first time her eyes settled on the finished dish, "Oh, Mom, it's so pretty!" But the true test is always waiting to see if everyone goes back for seconds...
And they did.
Utter fabulousness!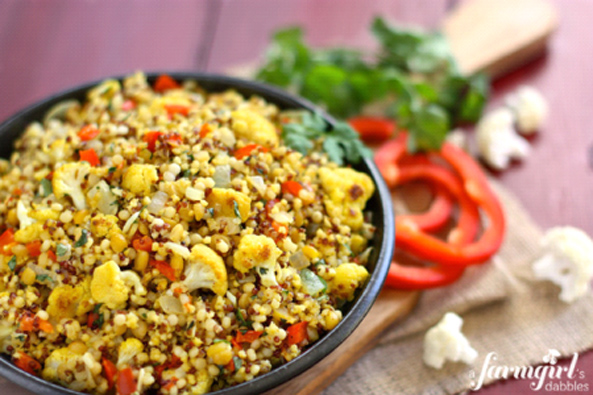 Curried Cauliflower with Couscous and Grains
Prep time: 20 minutes
Cook time: 40 minutes
Servings: 8
Ingredients:
2 cups low sodium chicken broth

1 Half Stick (1/4 cup) Land O Lakes Butter® with Olive Oil & Sea Salt, divided

1 teaspoon kosher salt, divided

1/4 cup red quinoa

1/4 cup millet

1/4 cup split baby garbanzo beans (also called chana dal beans)

1/2 cup couscous

1 cup yellow onion, diced

1 cup red pepper, diced

2 large garlic cloves, minced

3 cups small cauliflower florets

3/4 teaspoon mild or sweet curry powder

1/2 teaspoon ground cumin

Freshly ground black pepper, to taste

1/4 cup fresh cilantro, chopped
Directions:
In a large sauce pan over high heat, bring chicken broth to a boil. Add 1 tablespoon of the butter and 1/2 teaspoon of the kosher salt. Then stir in quinoa, millet and garbanzo beans. Reduce heat to low and cover with lid. Cook for 10 minutes. Then stir in couscous, cover with lid again and cook for 15 minutes more. Remove pan from heat, leaving the lid on.
In a large nonstick skillet over medium heat, melt 1½ tablespoons of Butter with Olive Oil & Sea Salt. Add onion, red pepper and garlic, and stir to combine. Sauté for about 8 minutes, stirring every few minutes, until onion is soft and translucent. Slide the vegetable mixture into the pan with the couscous mixture, and cover pan again with lid. (If couscous is not done cooking at this point, slide vegetables onto an extra plate, and add to couscous later.)
Return same skillet to the burner (no need to wash pan first) and turn the heat up just a bit, to medium-high. Add the remaining 1½ tablespoons of Butter with Olive Oil & Sea Salt. Once it's melted, add cauliflower and stir to coat. Sprinkle evenly with curry, cumin, and black pepper, and then stir again. Sauté for about 6 minutes, stirring every couple minutes, until cauliflower is tender but still firm. Add cauliflower to couscous and vegetable mixture, along with the cilantro, and fold to combine. Serve warm.
Disclosure: I've partnered with Land O'Lakes for an exclusive endorsement of Land O Lakes® Butter for their Kitchen Conversation blogger program. This blog post is sponsored by Land O'Lakes.
Share Your Thoughts
Did you find this article helpful? Has it inspired you? What else would you like to know?